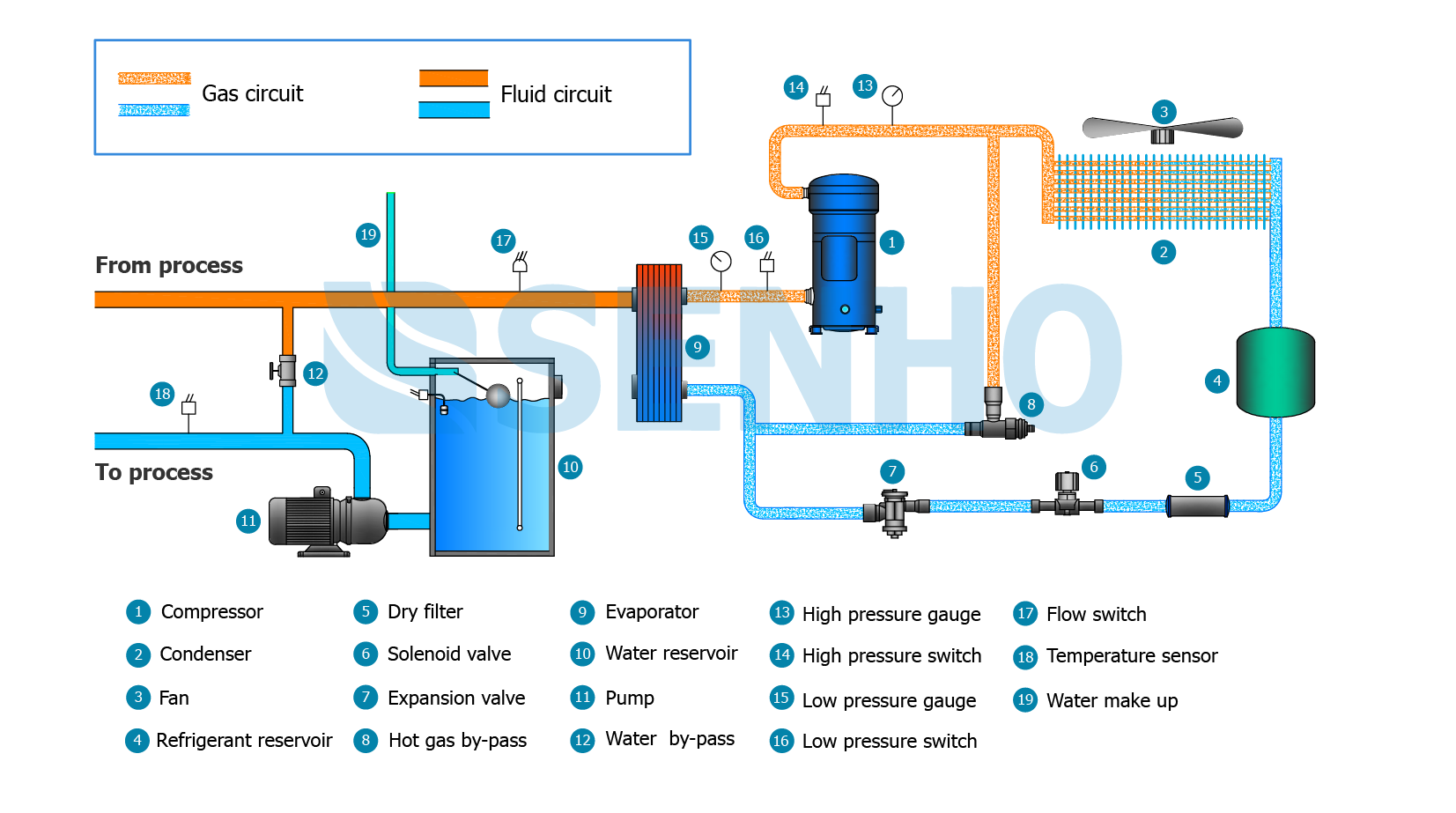 Standard Product Available Range for Air-cooled Brine Chiller
· Cooling capacity range: 1KW to 900KW
· Set temperature range: -40℃ to 5℃
· Temperature controlling accuracy: ±1℃
Smart Microprocessor Controller
· Comprehensive monitoring and precise temperature control, text display and audible alarm for running failure.
· MODBUS and RS-485 communication protocol supported version available on request.
· Siemens programmable logic controller and 10-in color touch screen for CLA series.
Europe Version Schneider Electric Parts
· Higher standard electricity components against circuit aging.
· More stable performance and longer service life.
Top Brand Compressors for Reliable Cooling
· Danfoss or Copeland scroll compressor, Bitzer semi-hermetic reciprocating compressor for PLA series, according to different needs of applications.
· Bitzer or Hanbell semi-hermetic screw compressor for CLA series.
Heat Exchanging Parts
· Generously sized aluminum fin condenser with epoxy resin coating, lowering vulnerability to ambient corrosion.
· High quality 316 stainless steel shell and tube evaporator, brine corrosion resistance.
Built-in Hydronic Module
· PLA series air-cooled brine chiller integrates a buffer tank and a large-flow corrosion resistance pump for easy installation and use.
· Inlet and outlet water bypass valves are equipped to adjust the water pressure as needed.
· The water tank sight glass allows the water level and water quality to be checked at a glance.
· Same configuration is available on request for CLA air-cooled brine chillers.
---
Available Options of Configurations to Make It More Suitable For Your Process Cooling

· Closed-circuit version for an external tank application

· Expansion tank for water circuit pressure stabilization

· Complete stainless steel(or food grade and medical grade) water circuit

· Dual water circuits version for large temperature difference >8K

· Remote control panel

· PLC control system & color touch screen HMI, PROFINET connection supported

· R134a refrigerant version for ambient temperature up to 60℃

· Heat recovery module for energy reuse
---
Product Details