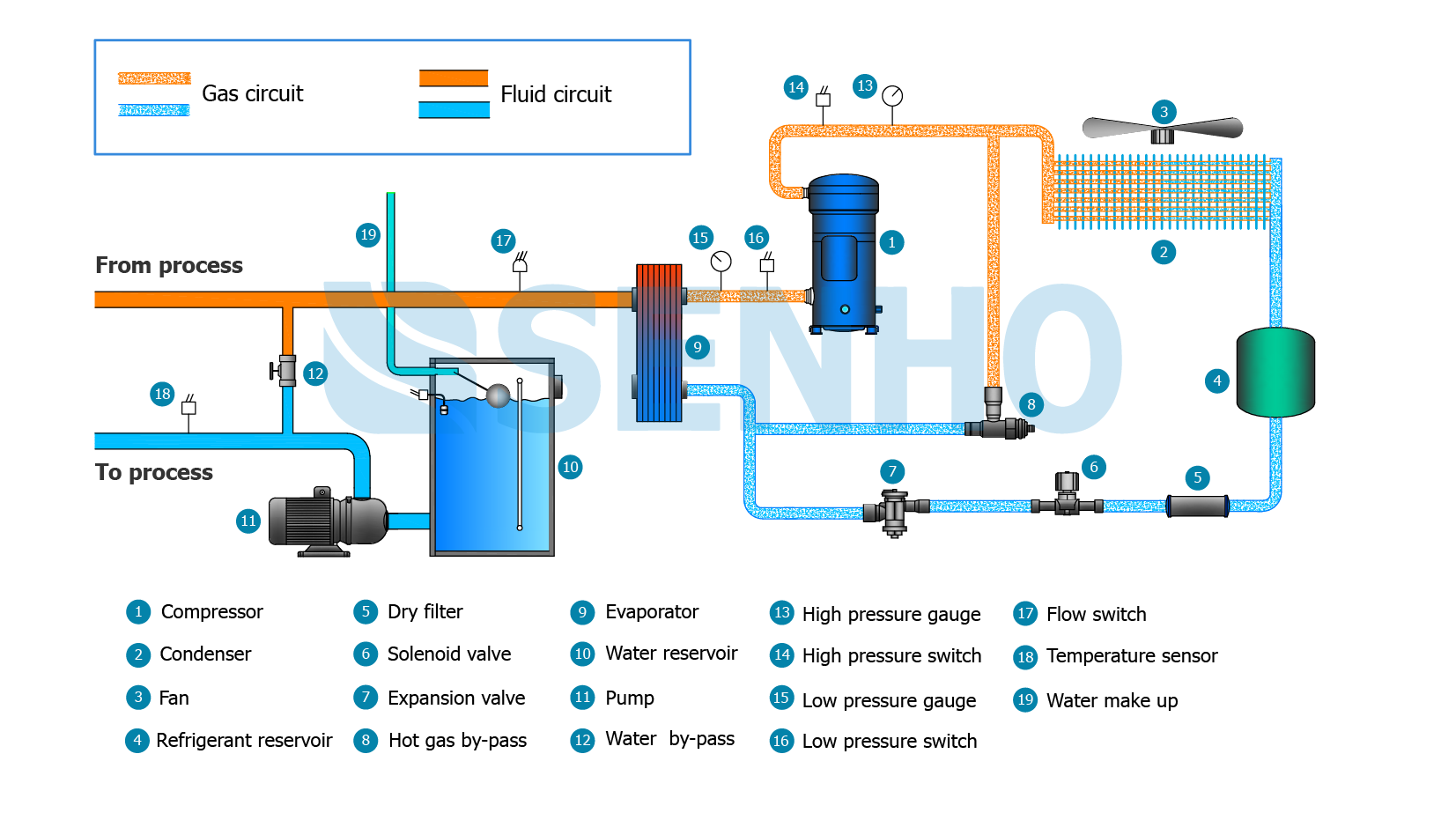 General Features
Higher Energy Efficiency in Smaller Size

Condenser with specially designed tubing structure and careful material sizing of the aluminum fin, well-matched with the rational refrigeration system, is the key that SENHO air-cooled industrial chillers have high efficiency and compact size at the same time.

Easy Installation

Without the demand for cooling towers, the installation of air-cooled chillers requires only power sources and pipe connections to process.

Low Maintenance Cost

Strength being put in the development and research on the durability of the refrigeration system lead to a low failure rate and high customer satisfaction. With only regular checking and maintenance, SENHO air-cooled industrial chillers can provide long service life.

High Flexibility and Wide Application Range

With the available option for working ambient temperature low to -25℃ and high to 60℃, coolant temperature range from -30℃ to 30℃, ±0.1℃controlling accuracy, SENHO air-cooled industrial chillers are widely used in different industries.



Standard Products Available Range
· Cooling capacity range: 2KW to 184.8KW
· Set temperature range: 5℃ to 30℃
· Temperature controlling vibration: ±1℃
Smart Microprocessor Controller
· Comprehensive monitoring and precise temperature control, text display and audible alarm for running failure.
· MODBUS and RS-485 communication protocol supported version available.
Europe Version Schneider Electric Parts
· Most reliable comments adopted for critical parts like AC contactor, breaker, and thermal relay.
· Higher standard components to realize a more stable and longer service life.
Scroll Compressors
· Danfoss or Copeland hermetic scroll compressors
· Close cooperation with compressor manufacturers for decades has enabled us to maximize their efficiency.
Heat Exchanging Parts
· Generously sized aluminum fin condenser with epoxy resin coating, lowering vulnerability to ambient corrosion
· SUS304 immersion coil evaporator, which can only be seen in high-class configuration, is in our standard design. It provides stability and convenience of cleaning unmatched by other type of evaporator.
Built-in Hydronic Module
· The unit integrates a buffer tank and a large-flow circulation pump for easy installation and use.
· Inlet and outlet water bypass valves are equipped to adjust the water pressure as needed.
· The water tank sight glass allows the water level and water quality to be checked at a glance.
---
Available Option Configuration for Air-cooled Industrial Chillers

· Closed circuit version to allow the use of an external chilled water reservoir

· Expansion tank for water circuit pressure stablization

· Complete stainless steel(or food grade and medical grade) water circuit

· Dual water circuits version for △t>8K

· Remote control panel

· PLC control system & color touch screen HMI, PROFINET connection supported

· Control accuracy up to ±1k

· R134a refrigerant version for ambient temperature up to 60℃

· Heat recovery module




---




Product Details