Air Cooled Chillers
SENHO air cooled chillers feature convenient installation and easy maintenance. With generously sized epoxy coated aluminum condenser and strong axial fans for heat removal, they perform reliably & powerfully under heavy-duty working conditions. Top components and fine processing skills ensure high quality and reliability of SENHO air cooled chillers.
Easy maintenance and low water loss make SENHO air cooled chillers very suitable for areas with scarce water sources or poor water quality.
1KW to 928KW cooling capacity is within the standard range of our air cooled chillers. Modular type design makes it easy to expand the capacity for larger scale cooling process.



We offer air cooled chiller solution for varies of applications and working conditions including:
● Heavy duty air cooled chillers for high ambient temperature up to 60℃.

● Scroll type, screw type or reciprocating type compressor.

● Complete stainless steel heat exchangers for dionized water, food process or medical use cooling.

● Acid corrosion resistance heat exchangers for processes like surface treatment.



SENHO provides not only a comprehensive range of air cooled chillers, but also professional customized cooling solutions for various industries and applications.
A properly selected air cooled chiller will have a longer service life and better performance. Please let us know more details about your applications.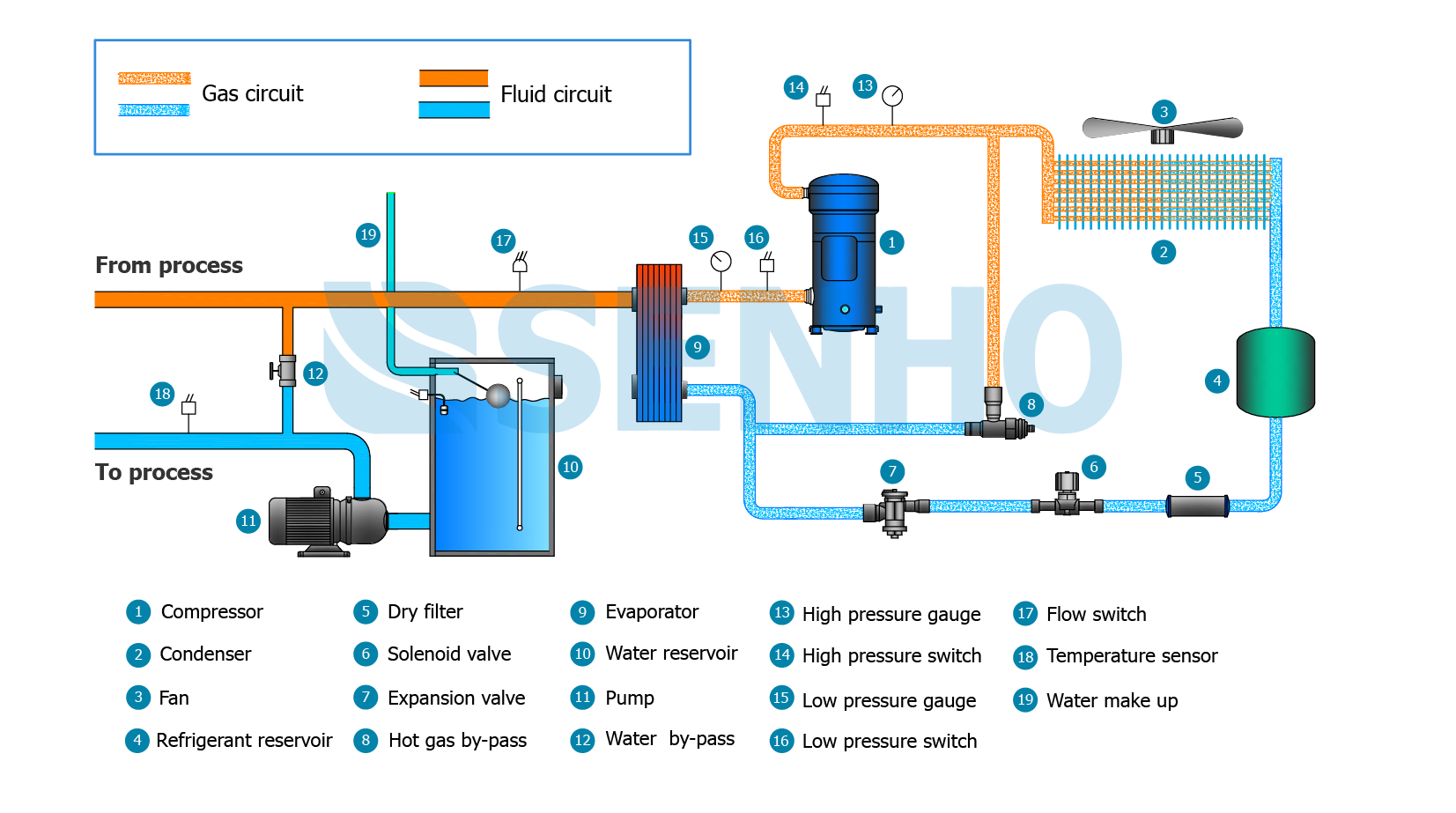 Working Principle of Air Cooled Chiller
Available Models for Air Cooled Chillers
· Cooling capacity range from 1KW to 184.8KW

· Danfoss or Copeland hermetic scroll compressor

· Built-in hydronic module(chilled water pump and chilled water tank)




· Cooling capacity range from 76KW to 928KW

· Bitzer or Hanbell semi-hermetic screw compressor

· Siemens S7-200 Smart Series programmable logic controller




· Cooling capacity range from 1KW to 928KW

· Cooling temperature range from -40℃ to 5℃

· Ethylene glycol, propylene glycol or brine can be selected as cooling medium